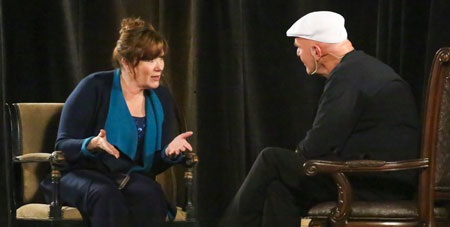 17 feb

Wayne Dyer om Tilgivelse

I dette indlæg får du et input fra en af verdens store spirituelle lærere, Wayne Dyer, om Tilgivelse. Og det på trods af, at jeg i sidste indlæg bekendtgjorde, at det var det sidste om Tilgivelse i denne omgang. Fordi den officielle tilgivelses-uge var slut. Men man har som bekendt et standpunkt til man tager et nyt.

For et par dage siden landede et nyhedsbrev i min ind-bakke, som jeg bare må dele. I tilfælde af, at der skulle sidde nogle tilgivelses-nørder derude, som ikke har fået helt nok. Som godt lige – lissom mig – kan klare én tur mere i en-dybere-forståelse-af-tilgivelses-maskinen 🙂

Nyhedsbrevet var som sagt fra én af mine allerstørste inspirationskilder inden for spirituel visdom, Wayne Dyer. Jeg har fulgt Wayne gennem mange år og læst de fleste af hans bøger. Han har for mig altid stået for stor visdom.

Her på sine gamle dage – efter et alvorligt sygdomsforløb – er der kommet nye dimensioner, endnu dybere klingende nuancer på hans budskaber, som gør, at han for mig SLET ikke er til at komme udenom.
Wayne Dyer om tilgivelse, set fra den åndelige verden
I dette nyhedsbrev skriver Wayne Dyer om Tilgivelse. Det drejer sig omkring en samtale, han i 2013 år havde med Abraham, et åndeligt underviser-fællesskab, som kanaliserer deres budskaber gennem Esther Hicks, et amerikansk medie. Samtalen fik titlen Co-creation at it's best.
Abraham/Hicks-samarbejdet har udgivet adskillige bøger og videoer m.m. som også hører til mine absolutte favoritter, når det kommer til at forstå de dybe sandheder om Livet og ikke mindst, hvordan vi skaber vores eget liv på godt og ondt gennem Loven om Tiltrækning.
Så jeg har selvfølgelig fulgt nysgerrigt med i samtalen Co-creating at Its Best mellem Abraham/Esther Hicks og Wayne Dyer, har købt og læst samtalen i bogform og set dvd'en. Den findes også som mp3, både på CD og som download. Absolut anbefalelsesværdigt materiale, som vi ikke kan undgå at blive klogere af.
I denne samtale spørger Wayne Dyer om Tilgivelse. Han stiller bl.a. spørgsmål til Abraham om, hvad det egentlig var der var på spil, da han som 34-årig tilgav sin far. Han registrerede selv et fantastisk skift i sit liv. Alting begyndte at bevæge sig mere flydende, som om der var givet slip på en alvorlig begrænsning. Et vendepunkt, som han har beskrevet flere gange i løbet af sin karriere.
Gennem Abrahams svar får Wayne mulighed for at få en endnu dybere forståelse af det, der fandt sted i og imellem hans far og ham selv i selve tilgivelses-processen. Hvordan relationen mellem dem tager sig ud fra et åndeligt perspektiv.
Hvis du har lyst til at dykke ned i den del af samtalen og få en dybere forståelse tilgivelses-processen og dens betydning, kommer herunder det uddrag, som Wayne Dyer deler i sit seneste nyhedsbrev. Det er på engelsk men absolut værd at bruge tid på at dissekere.
Hvis du bliver så tændt at du bare må have hele samtalen, enten i bogform, som dvd eller mp3 kan du klikke på billedet herunder. Jeg har valgt at linke til mp3 filen, da det kommer uden om alle udfordringer med told m.m. når der sendes fra USA. Men hvis du hellere vil have samtalen som bog eller DVD, er jeg sikker på, at du sagtens kan finde den, nu du har navnet 🙂
Rigtig Go Fornøjelse. High Vibes fra Ianneia.
OBS:
Hvis du vil have mere inspiration til din forståelse af tilgivelse,
finder du mine øvrige indlæg om emnet her:
3 trin til at checke om du har tilgivet
Tilgivelse af dig selv er vigtigt for empowerment
Sæt sunde grænser før du tilgiver
Og hvis du beslutter dig for at du vil i gang med at slippe fortidens tyngde,
får du alt, du har brug for til processen
i mit kursus i tilgivelse:
Og så kommer uddraget af samtalen mellem Abraham og Wayne Dyer om Tilgivelse:
Samtale mellem Wayne Dyer og Abraham om Waynes tilgivelse af sin far
Wayne: My father was a man who just walked away. He was a very abusive man. He left my mother with three boys under the age of four. He just disappeared.
Abraham: Just the way you planned it. It was the trajectory you wanted, because you are a freedom seeker to the core of your being and you didn't want anybody bossing you around.
Wayne: Yes, I've heard my kids say that many, many times, and I've often said that when a little kid says, "You're not the boss of me," that is not a bratty little kid; that's someone saying, "I have to be free."
 
Abraham: They are saying, "I'm autonomous. I've come with great reason. I have Guidance from Source. I'll tune in to who I AM."
Wayne: So, I never met my father. And I grew up with rage in my heart toward this man who could walk away and just never look back, and never pay any support, and never even ask a question about his three boys or anything. I was the youngest.
Abraham: He did his part. He gave you an avenue into physical. Most parents mess it up far more than that.
Wayne: Did I choose him to be my father?
Abraham: Yes. Deliberately.
Wayne: Because the most significant moment in my life was in 1974 when I was 34 years old, and I was at his grave in Biloxi, Mississippi. And before that I was drinking and I was overweight and my life was out of control. I was not taking good care of myself. I'd written some textbooks. But the kind of writing I really wanted to do, I just couldn't get it. It just wouldn't come.
Abraham: You were too angry.
Wayne: I was filled with rage. I would wake up in dreams, on almost a nightly occurrence, and I'd just be screaming and I'd be fighting him and I'd be sweating. I went to his grave—it was the 30th of August, 1974—and I really went there to do something on his grave. I was there for two hours or so, and I went back to the car to drive back to New Orleans and then back to New York—but something called me back.
Abraham: How far down the road did you get before you were called back?
Wayne: I only got to the car. I was in the car and something said, "Go back to the grave." And I went back to his grave, and I was sobbing and I forgave my father. I said, "From this moment on, I send you love." Everything in my life changed and turned around. My writing took off. I wrote a book that became an international bestseller. It all came when I released that rage and anger…
Abraham: What do you think happened? Because he was always there with you. He was always loving you. He was always proud of you. He was always appreciating you. Because he's Source Energy. So that's how he was feeling—
Wayne: Even while he was here on this planet?
Abraham: Oh, no. He was all pinched off then. But once he reemerged into Non-Physical, he was in that place of Pure, Positive Energy. And his influence was therefore strong. And your desire to understand all of this; your desire to teach this; your desire to let go of the resistance that was holding you back was also strong. In other words, when you forgive someone, you let go of the resistance that is keeping you from your alignment. And it really doesn't have anything to do with the actual subject that you are angry about. But it feels like it does, because that's what you're focused upon. So we are asking you: What do you think happened? You went there with strong desire. Can you articulate that?
Wayne: Yes. I can articulate to the point of saying I went there because I wanted to see his death certificate. I wanted to know if he even acknowledged that he had a son named Wayne. I just wanted to know that.
Abraham: So your bitterness was still very strong.
Wayne: There was something that was driving me.
Abraham: What was driving you was the trajectory of Well-Being. What was driving you was the understanding that you weren't born to be dependent on someone else. And you did not come to use someone else as your excuse for not being in alignment.
And so something happened in that moment that caused you to let go of that. Maybe it just got old. Maybe it just felt futile. Maybe you felt the ridiculousness of it. Maybe it had just gone on too long. Or maybe there was a reset button. Maybe you had found a desire that was stronger than your old beliefs, and for just a moment the desire took precedence. The desire that is coming forth from within.
So something happened to you that caused you to cease the resistant momentum that you had going for so long, and to feel, for a moment, the fullness of who-you-really-are. What you felt was the powerful God Force love that was pouring through your father, your Non-Physical father, focused upon you, wanting you to feel it.
The best way for us to say it is that his love was stronger than your hate. And he caught you at a weak moment when your hatred was less focused. And you felt it. There is no greater message that we wish to convey. That is what we are talking about all day, every day.
People ask about healing. They want to find someone who can help them. And we say, you know, Source is flooding this Energy of Well-Being toward you at all times. You don't need any other to do what Source is already doing. But if someone can help you to soften your resistance so that you can somehow be receptive to the love and Well-Being that's being flowed, a little bit of alignment goes a long way. And as you say, it is life-changing. Your life turned on a dime, because you returned to the path of least resistance—to the lover that you are. And you took big steps in leaving that hatred behind.
Wayne: Is there only love on the other side?
Abraham: Yes. There's only love. Yes. Only love. Only love. Only, only, only, only. Pure, Positive Energy, love and clarity and passion and eagerness. Yes.
Thank you, Abraham!